Snorkeling is one of those rare adventures that is both thrilling and relaxing at the same time. Not to mention it gets you out in nature in some of the most amazing environments imaginable while being more accessible than SCUBA diving. We can't say it's the perfect activity for everyone, but we think it comes pretty close.
Snorkeling isn't a complicated sport, but when you are just starting out, there are a few things you need to know to safely enjoy it. To have the best experience possible, you'll want to have top quality equipment that you are confident using. By purchasing your own snorkeling gear, you can ensure that everything fits the way it should, get familiar with how it works and become confident about using it, so you know your vacation won't be ruined by poor quality or ill-fitting gear.
We want you to be fully prepared for a terrific vacation without being overwhelmed with trying to figure out how to snorkel safely and where to buy snorkeling equipment, so here are our best tips. We'll also share our thoughts on the best snorkel gear for travel and some of the most ideal places to go for a snorkeling vacation.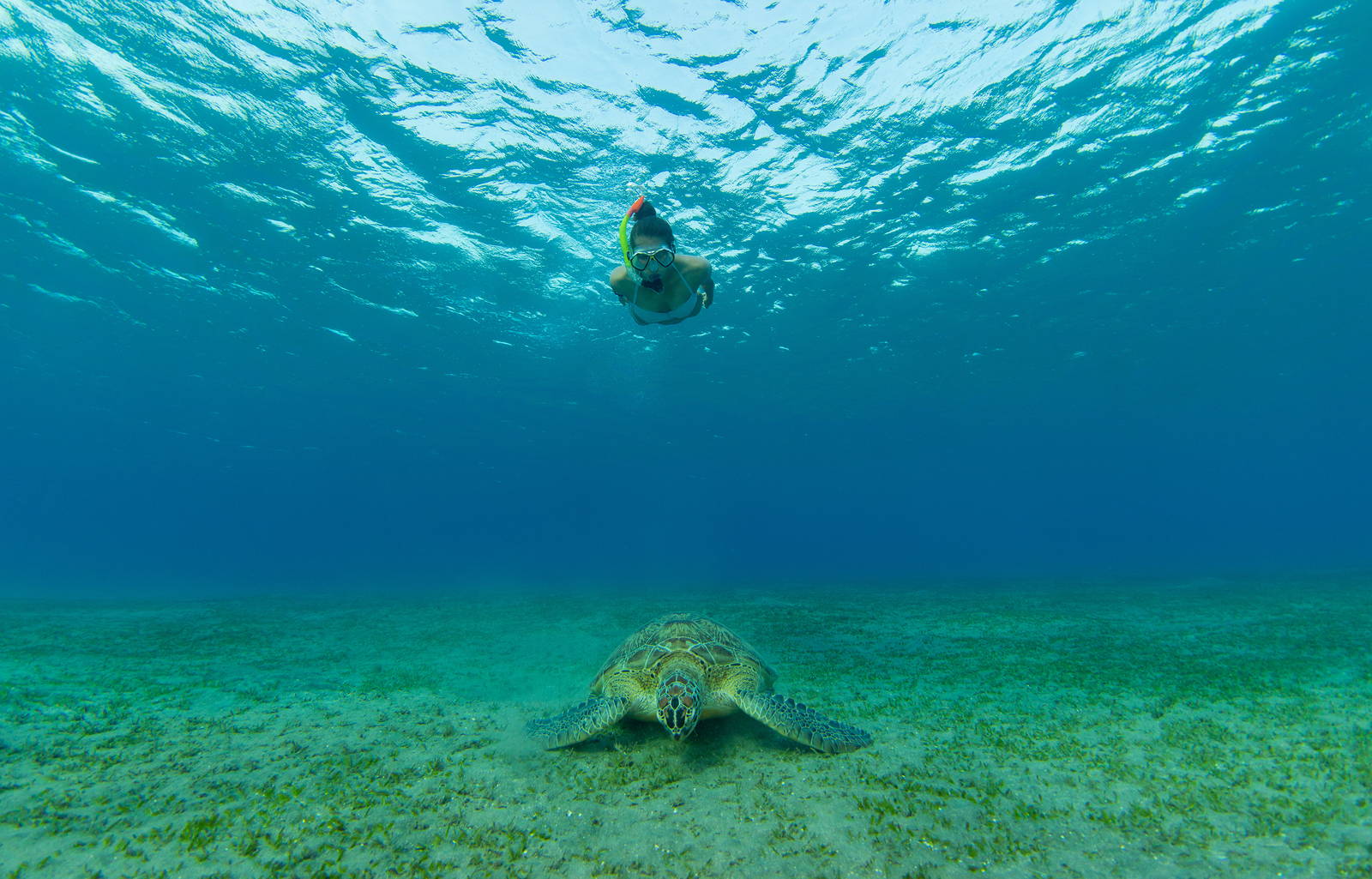 How to Choose the Best Snorkel Gear for Beginners
Your basic gear will consist of three elements: mask, snorkel, and fins. We've done a lot of research and experimentation, and as a result, have developed our own product designs and highly recommend a full face snorkel mask for casual surface snorkeling and short snorkel fins. We'll explain each piece in detail but would also like to mention one additional piece of equipment that we usually recommend, and that's an inflatable snorkel vest or snorkel jacket.

The snorkeling flotation vest we recommend for most people is not a life preserver. It is manually inflated, so you can wear it comfortably whenever you are in the water and blow it up if you get tired and want to relax, or just want a little help with flotation. You should always wear a coast guard approved life jacket if you are a weak swimmer or will be in challenging water conditions.
Selecting the Best Snorkel Mask
The best snorkel gear for beginners starts with a mask that fits. Traditional snorkel masks have a flat lens that extends across both of your eyes or two separate lenses, and a rubber nose cover. They have a rubber gasket around the outer edge that seals across the top of your forehead, around the sides of your cheeks and below your nose.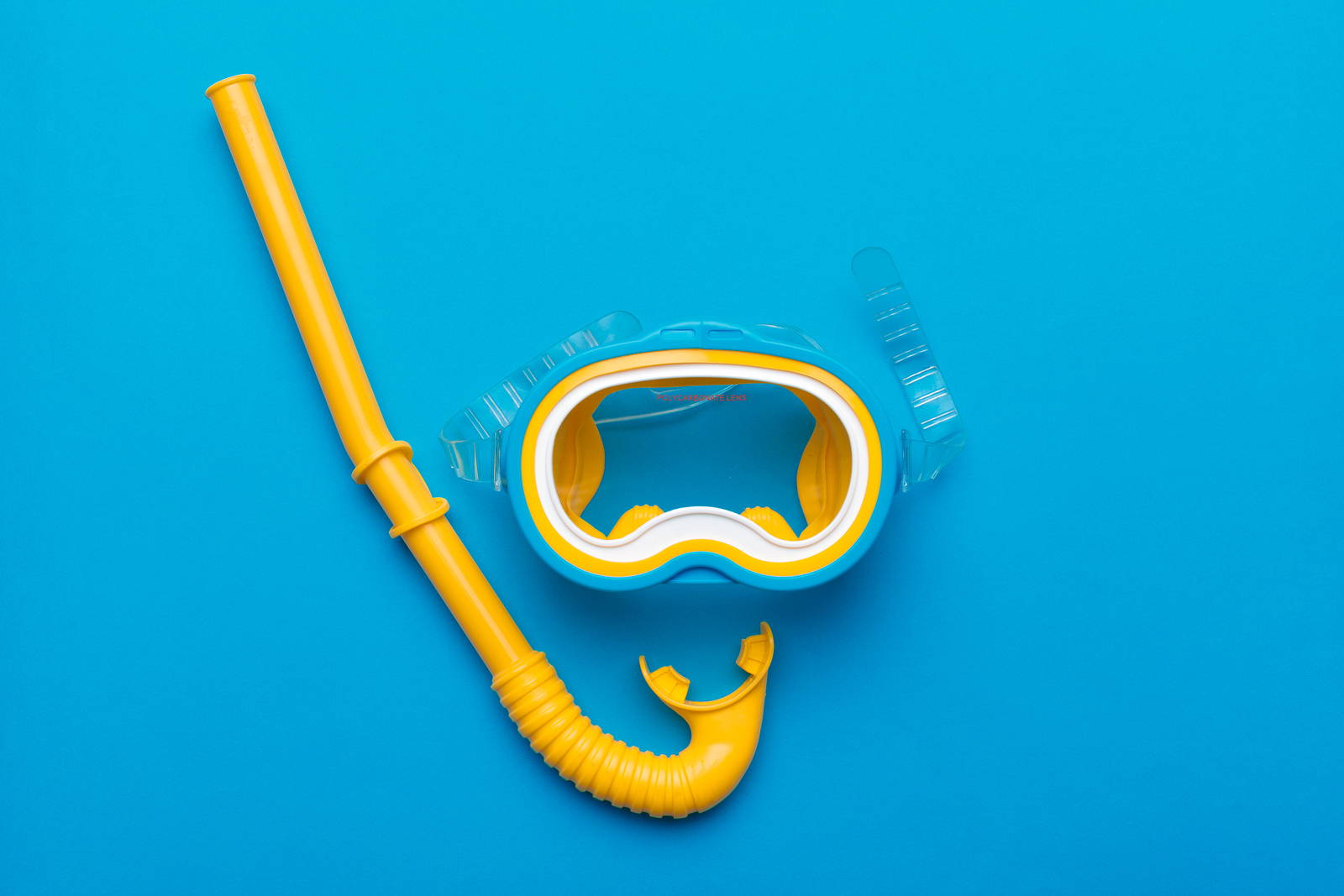 The new snorkel mask design, called a full face snorkel mask, has a much larger lens that covers your entire face. High-quality masks like the Seaview 180° snorkel mask have a lens that wraps around the sides as well, to allow a full 180° view. Full face masks seal around the outer edges of your face and have the snorkel incorporated, allowing you to breathe through your nose and mouth.
Along with the enhanced field of vision, not having the snorkel in your mouth is one of the major benefits of the full face snorkel mask vs. traditional equipment. Because the snorkel is built into the mask, you don't have to hold it in your mouth, which can become tiring, and biting onto the mouthpiece for a long period of time can result in jaw soreness with the traditional setup. People have also found that a full face mask helps prevent gag reflex (which can be a problem with a traditional snorkel) and can make it easier to keep salt water out of their eyes because if some water leaks into the mask, it drains down to the bottom of the chin rather than right under their eyes.
More advanced snorkelers who want to dive down under the water will need to relieve the pressure that diving creates on the inner ears. This is done by a process called "clearing" or "equalizing," that means pinching the nose closed and attempting to blow air out, which pushes air pressure against the inner ear. A full face snorkel mask does not allow pinching the nose, and clearing your ears without being able to do that is complicated and takes a lot of practice, so if your intention is to do diving, then the best snorkel mask for you would be a traditional style.
If the mask seems to be the correct size, but you don't get a good seal, you will probably be able to tell where the air is seeping in and can check to make sure there is no hair preventing the seal. That's bad news for you bearded ones—the mask can't seal over a beard (though we find a light scruff tends to be okay)—but snorkeling is enough fun to make it worth shaving for your vacation (and you can always grow it back!). Clean-shaven works best, but you can try trimming it short and see how it goes.
Full Face Snorkel Mask Vs. Traditional: Which One Is Better?
A traditional snorkel is essentially a plastic tube that extends along the side of your head, wrapping around to a rubber mouthpiece and is completely separate from the mask. It has a rubber loop attachment to hold it onto the mask strap, but during use, the mouthpiece must be held in your teeth.
Users have had difficulty keeping track of the angle of the tube and location of the snorkel's tip and often breathed in water because they submerged it without realizing it, so many traditional snorkels have incorporated modified tips that have a dry stop ball to prevent water from coming down the tube.
The full face mask has the snorkel integrated at the top so it is always at the same angle over your head. The snorkel on the Seaview mask has been designed with dry top technology to incorporate the best valve for keeping water out if the snorkel is submerged—and even if a wave breaks over it.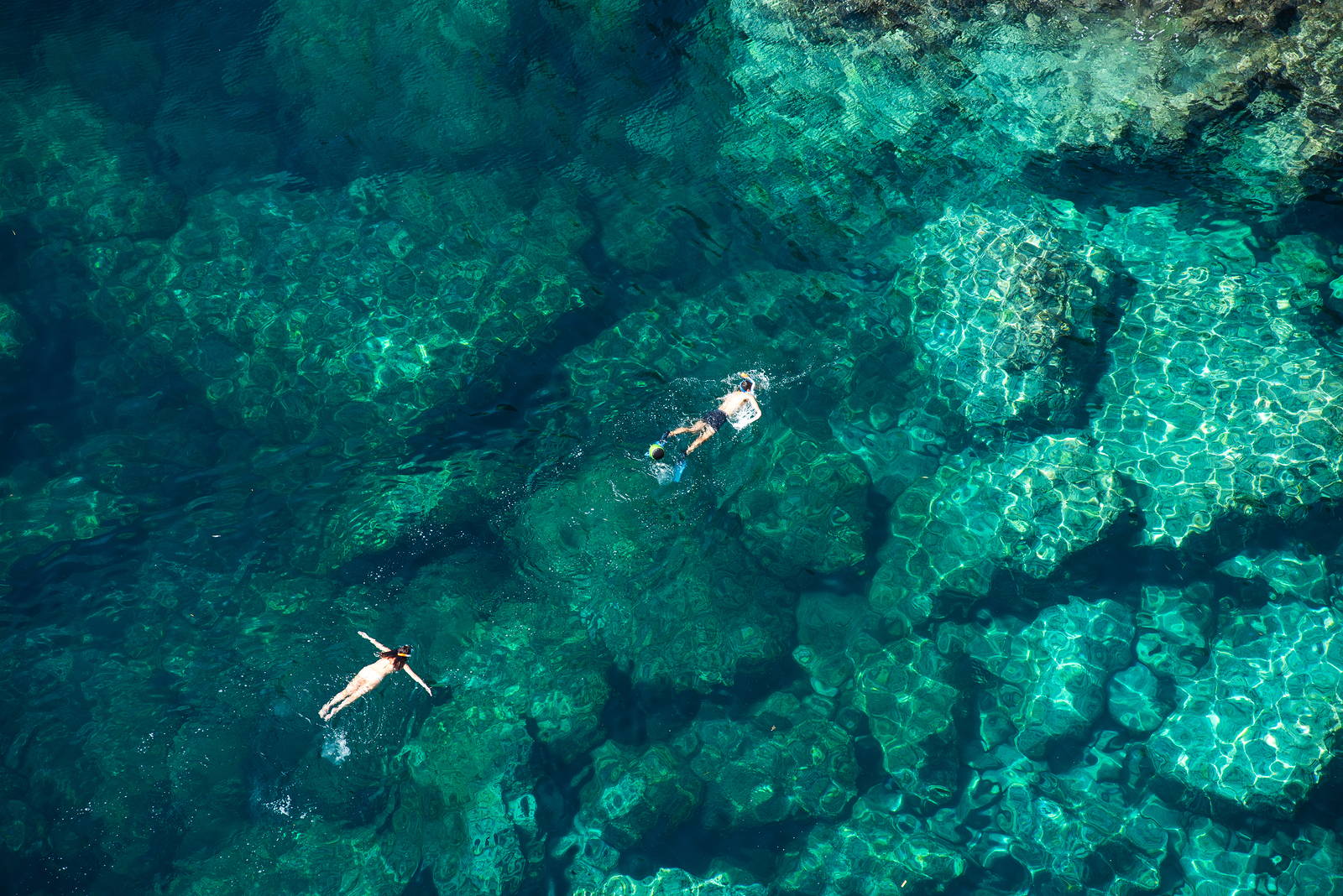 You Also Need Swim Fins for Snorkeling
Being able to move swiftly through the water without tiring out makes snorkeling much more fun, so fins (flippers) have become part of the essential gear. The best fins will be comfortable, long enough to propel you through the water and short enough that they aren't completely awkward and uncomfortable for maneuvering when you are standing.
Traditional flippers can be very long and extremely difficult to walk in. They also attach to your feet with rubber straps that wrap around your heels and can cause blisters, especially if sand gets under them.
To overcome these shortfalls, we designed short snorkel fins. Our Topside Hydro Fins are built around a neoprene boot so your feet are supported and protected. They resemble a shoe with an integrated fin. The hook and loop strap assures a secure fit so you don't have to worry about them sliding off when you are in the water, and the short length makes them easier to walk in. They are not only the best short fins for snorkeling, but their size also makes them the best travel snorkel fins.
Safety Tips for the Best Snorkeling Experience
We recommend buying your own equipment so you know you have good quality gear and everything works and fits properly. Equipment rental places only have so many of each size and their employees can tend to go with "close enough" even when your comfort is compromised. Not to mention, using your own gear is far more sanitary.
Before you head off on vacation, it's a great idea to put on all your gear and go for a practice run in a pool. You can get everything adjusted just right and if there are any problems, you can contact the manufacturer with your concerns and get your questions answered before your trip. This is an especially good thing to do with kids so you know that they have the right fit and know how to use the gear—and they can practice in a safe and familiar environment before heading out into the wilds of the ocean.
The best place to buy snorkel gear is one where you can tell who made it, where it was made, and have some assurance that they stand behind the quality of the product. A good snorkel gear brand will make it easy to get that information. Saving ten or twenty bucks is never worth ruining your vacation or getting someone hurt.
If you can confidently swim and float face-down, you can snorkel, but you will have a much better experience if you get someone experienced to help you out. Most snorkel destinations have guided tours available where you can not only get some tips on snorkeling but go out with a local who can show you where to find the most interesting fish, reefs and intriguing sea creatures.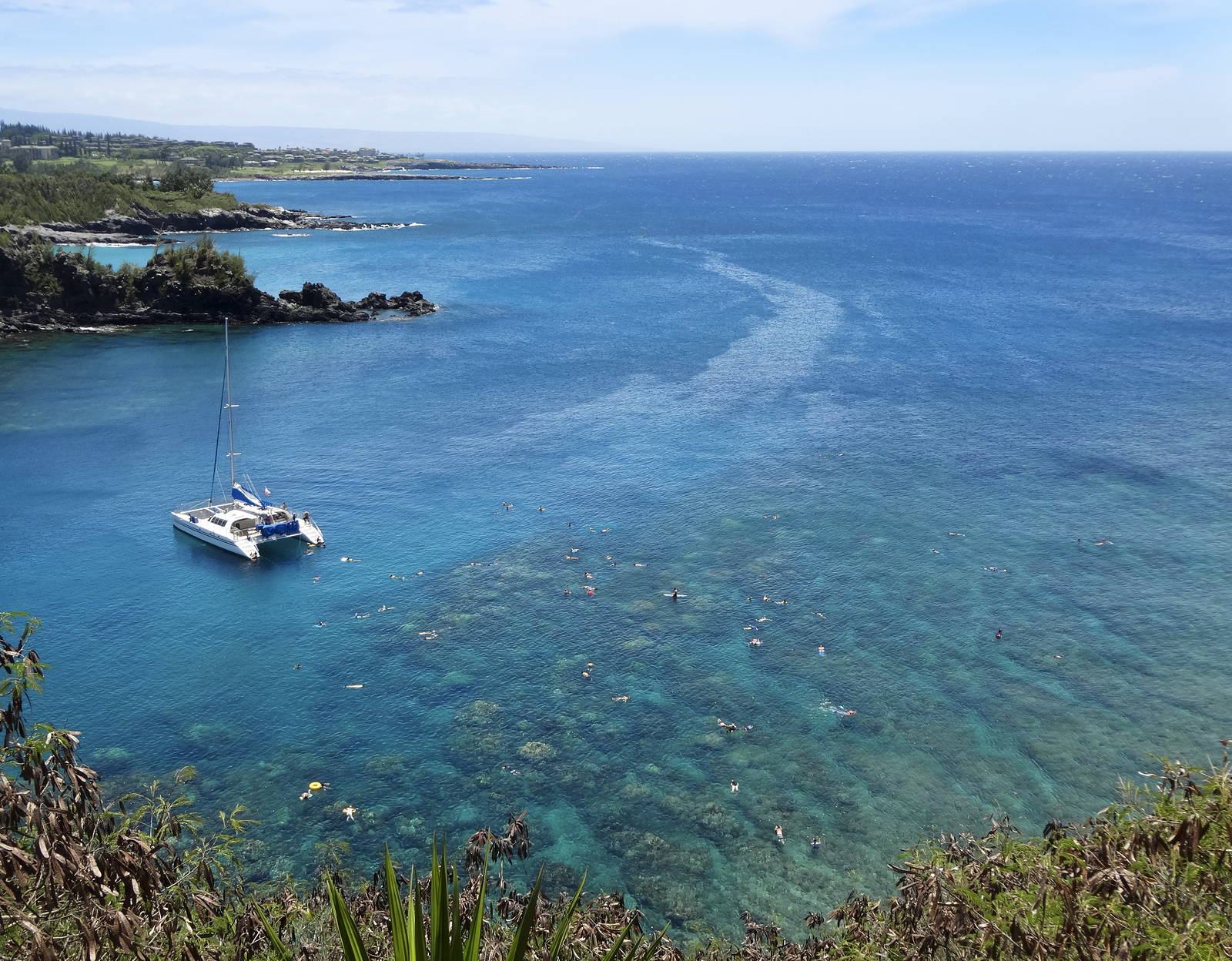 Where Is the Best Place to Go for Snorkeling?
The ideal snorkeling spots will have warm, clear, shallow water. Fortunately, there are many places like that around the globe. Here are a few of the ones closer to the U.S.
Hawaii – All seven of the Hawaiian Islands offer outstanding snorkeling. The warm water year-round makes it a haven not only for snorkelers but for all kinds of sea life. Tours are available to take you out on a boat if sea turtles are at the top of your list, but you can also just walk right off the beach in many locations and find fascinating things to see.
Snorkeling tours in Maui have become especially popular, with Coral Gardens being a favorite.
On Oahu, Hanauma Bay has the most kinds of fish you are likely to see in any given location, but with thousands of visitors every day, it can be crowded. Kuilima Cove on Oahu's north shore is another highly recommended spot with far fewer visitors. The cove is naturally sheltered from the waves and has many species of fish and crystal clear water.
The Big Island, Hawaii, offers the amazing experience of night snorkeling with manta rays. This is a popular activity and guides are required, but quite a few are available. Manta Village, south of Kona, has the highest success rate for seeing manta rays.
At Tunnels Beach on Kauai, you can snorkel right off the gorgeous beach, but you will need to swim out a ways to get to the clear water. It's a little murky near the shore, but you can still see fish and moray eels there.
Hulopoe Bay on the south shore of the island of Lanai has tons of fish plus dolphins and sea turtles are often seen further out from shore. Since Lanai isn't one of the more popular tourist destinations, you will have far fewer people on the beach and in the water with you.
The Florida Keys – The southernmost tip of the continental U.S., Fort Zachary Taylor, is a sandy beach where you can walk right into the water for snorkeling with tropical fish on a living reef. If you have the opportunity to take a ship to the Dry Tortugas for the day you can enjoy a secluded swim with few other humans—though you may get to see sea turtles and even bottlenose dolphins.
Further up the keys, John Pennekamp Coral Reef State Park is the first undersea park in the U.S. and one of the nation's most popular snorkeling and scuba diving destinations. This one also requires a boat but is well worth the trip.
California – While it doesn't meet our ideal condition of warm water, California's waters certainly aren't frigid, and there's always the wetsuit option. You'll need to take a boat to even get to Catalina Island, but the area doesn't have crowds, is warmer than the water along the shore and has an abundance of marine life to see. During the summer, La Jolla Cove near San Diego is a favorite of adventurers who want to see the leopard sharks that come for the warm shallow water there.
Mexico – If turquoise water, stingrays, and starfish are your thing, El Cielo in Cozumel is for you. Cozumel is the most popular snorkeling destination in Mexico and El Cielo tops the list among local favorite spots, but it is only accessible by boat. Some beaches in Mexico are free, but others belong to restaurants or hotels, so you need to eat or stay there for access. The Money Bar is known as an affordable restaurant and bar with chaise lounges on the shore and fantastic snorkeling, including tropical fish, manta rays, and sea turtles.
That's just the tip of the list of fantastic places to snorkel, and as you can tell, it's a sport that accommodates all budgets. You can find great spots right off the beach or take a tour to an offshore location with few other visitors, and there are places to go all over the world.
Wildhorn Outfitters stands behind everything we sell—after all, we designed and tested it ourselves, and we only put our name on gear we would choose to buy for our personal use. Order your snorkeling gear today and don't hesitate to contact us with any questions. We'd love to help you start your snorkeling adventure!